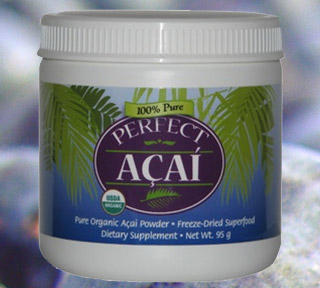 Perfect Acai Powder
Price per Unit (piece):
$39.95
Perfect Acai supplements are made with 100% Freeze Dried, Organic, and Fairly Traded Acai. This is a great option for those who want to try something different. You can use Perfect Acai Powder in smoothies, tea, water and many other dishes. Your purchase helps to protect the Amazon rainforest and the indigenous people of the Amazon. Fairly Traded means they pay a price for Acai that ensures the locals can live on the wages from harvesting Acai. Our supplier is helping to save the rainforest. It is more profitable for locals to maintain the trees in the Amazon Rainforest than it is to chop down the trees and sell the wood (their method of income prior to harvesting Acai berries).
Please note: Perfect Acai DOES NOT use any FILLERS or FLOWING AGENTS. You will NOT see things like magnesium stearate, silica or rice in our products - just pure Acai. This item may take a week to arrive from the manufacturer as they are located in the United States.
Featured Products
Reishi Gano Tea

Details $23.96

Perfect Acai Powder

Details $43.95

Aloe V. Cleansing Gel

Details $13.20

Vita Café

Details $30.25

Andro - G ( 30 pcs)

Details $19.80

Reishi Gano (RG90)

Details $62.70

Ganocelium (GL30)

Details $22.00

Spirulina (500 pcs)

Details $89.10

Perfect Revive Acai

Details $47.25

Perfect Acai Capsules

Details $43.95

Lion's Mane (120 pcs)

Details $55.00

Ganozhi Soap (a pair)

Details $12.10

Ganocelium (GL90)

Details $62.70

Aloe.V Hydrating Toner

Details $12.10

Aloe V. Hand Lotion

Details $13.20

Aloe V. Nutricare Cream

Details $15.40

Ganozhi Body Foam

Details $24.20

Roselle Candy (120 pcs)

Details $27.50

Cordyceps Coffee 3 in 1

Details $22.51

Reishi Gano (RG30)

Details $22.00